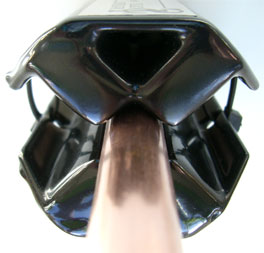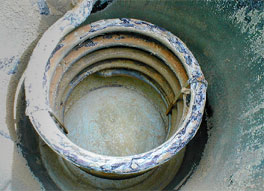 Hot water cylinder 10 years after a Scale Invader had been fitted. Result: VIRTUALLY SCALE FREE.
Lime scale solved


Calcite and Aragonite -
Two forms of Calcium Carbonate

Calcium carbonate has the chemical formula CaCO3. In the same way that diamond and charcoal are two different forms of the same chemical element - carbon, so calcium carbonate exists in several different forms. Diamond and charcoal, although obviously physically very different, have exactly the same chemical properties. You can burn diamond and turn it into Carbon dioxide in the same way that you can burn charcoal on your barbecue. Similarly, Calcite and Aragonite, two different forms of Calcium carbonate, are physically different but chemically identical and enter into the same chemical reactions.
The physical structures of Calcite and Aragonite are different in that the atoms are arranged differently in the two forms, in the same way that the bricks are arranged differently in two different houses, but they are still both made of brick.
There are, in fact, three minerals of calcium carbonate: Aragonite, Vaterite and Calcite. They are referred to as polymorphs, meaning that they have the same chemistry, but different crystal structures and symmetries. Calcite has a crystalline structure known as trigonal. Aragonite has an orthorhombic structure. Aragonite's structure is composed of triangular carbonate ion groups, with a carbon at the centre of the triangle and the three oxygens at each corner. Unlike in the calcite structure, the carbonate ions in aragonite do not lie in a single plane pointing in the same direction. This destroys the trigonal symmetry, which is characteristic of calcite. To illustrate this, imagine the symmetry of an equilateral triangle; a three-fold rotation with three mirror planes that cross at the centre. Now join two of these triangles together at their bases and you have a diamond-shaped figure with symmetry of a two-fold rotation with one mirror plane in the middle.
This is what the effect of the two carbonate planes with opposite orientations has on the symmetry of the aragonite structure. These differences in crystalline structure between calcite and aragonite lead to their different physical properties.
Water, which contains substantial amounts of calcium carbonate, is referred to as 'hard' water. If hard water is used in a heating system, the calcium carbonate comes out of solution and is deposited onto the surfaces of pipes and tanks. This calcium carbonate deposit is commonly known as 'lime scale'. It is a hard substance, which, if allowed to build up, will progressively reduce the efficiency of heat transfer in the system. An everyday example of calcium carbonate coming out of solution as lime scale, can be seen in a kettle. As is well known, the efficiency of a kettle is greatly reduced if this lime is allowed to build up.
The form of calcium carbonate deposited in the way described has the physical structure of calcite. It is the arrangement of the atoms in the calcite, which gives it its physical properties. If these properties could be changed so that, for example, the particles did not clump together to form hard, insulating masses, the problem of lime in heating systems could be greatly reduced. Such a method exists.
If hard water is exposed to a strong magnetic field, prior to being heated, the arrangement of the atoms in the calcite is changed to that found in aragonite. Aragonite has different physical properties to calcite. The aragonite cannot form the hard, insulating deposits of lime which calcite is able to do. Magnetically treated water thus progressively removes and prevents the deposition of lime in a hot water system.
How Scale Invader will benefit you.
The process, which brings about the change in the structure of calcite deposits, is known as Molecular Surface Energy Realignment. The electromagnetic forces at work in charged particles in solution are acted upon by the magnetic field. This alters the molecular surface energy states. Surface energy states determine how physical crystals form during precipitation. Ionic calcium carbonate is treated and forms electrically neutral aragonite, rather than calcite (lime scale). These two crystals have different physical structures and behave differently, although chemically they are the same, CaCO3. Calcite creates hard water but Aragonite does not.
There are scale removers on the market, which use the same principle as SCALE INVADER, but generate the magnetic field using energy from a mains electricity supply. These therefore cost money to run - SCALE INVADER is complete and has no hidden running costs!