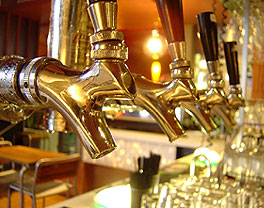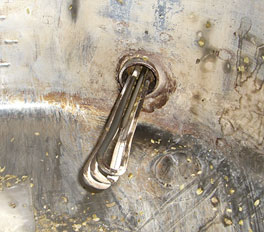 Industrial applications


The Brewing Industry allows us to demonstrate the effectiveness of Scale Invader.
In most instances viewing the efficiency is not possible as heat exchange units are usually enclosed. However, this can be seen in the photographs shown on the right!
As you may know, removing Calcium oxalate or 'beerstone' is a time consuming and costly business. This substance is composed of calcium and magnesium salts and various organic compounds created during the brewing process.
When 'hard' water is heated the dissolved solids of Calcium carbonate undergo a chemical change, come out of solution and adhere to the surfaces of the containers/pipe-work/kettles. Once this chemical change has taken place it cannot dissolve back into the water. This substance is known as Calcite - the calcium element of beerstone.
There is a way you can control beerstone and save time and money.
Calcium carbonate can be stimulated by electricity or magnetism to form into Aragonite. When Calcium carbonate is changed in this way and you heat your hard water, Aragonite remains in the solution and does not adhere to heated surfaces - reducing the amount of beerstone. As well as the benefits to you and your brewing, Aragonite has no effect on the potability of the water.
The Scale Invader can achieve this change.
We have been manufacturing Scale Invader since 1989 and it has been used successfully in Domestic and Industrial situations such as:
Food Manufacturing
Breweries
Health care Industry
Restaurants
Hairdressers
Offices
Boreholes
Public Houses
Swimming Pools
Domestic Accommodation
In fact, in any situation where hot water is generated.
We are confident that Scale Invader can help you save both time and money!
For more information, contact us at: info@scale-invader.co.uk or call us on:
01787 460625 / 07929 930329