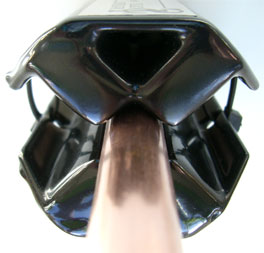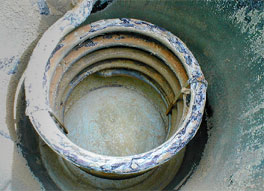 Hot water cylinder 10 years after a Scale Invader had been fitted. Result: VIRTUALLY SCALE FREE.
Less energy used, less carbon released into the environment, and you save money.

What is a Scale Invader?
The Scale Invader is a simple, maintenance-free device which can be attached to your mains water supply. It uses no power and lasts a lifetime. It solves the many problems caused by hard water.
What is Hard Water?
The water which comes to our homes has been purified to remove harmful bacteria and other health hazards. However, purification does not remove the harmless dissolved solids which are picked up by the water as it flows over the land, on its way to the rivers and reservoirs where the water supply companies extract it. The amount of dissolved solids in drinking water is different for different parts of the country. Water in some areas contains a lot of dissolved solids, in other areas the water contains less. Water containing large amounts of these solids is called hard water. Water with low levels of dissolved solids is often referred to as soft water.
What problems are caused by Hard Water?
Perhaps the most obvious hard water problem is the difficulty it causes when you try to get a lather with soap. You have to use a lot more soap to get a lather with hard water, and it also creates a lot more scum. Another problem associated with hard water is that it causes a build-up of lime or scale in a kettle. If you have scale in your kettle, you are wasting money, because it uses a lot more electrical energy to heat a kettle element when it is covered with scale. These are just the scale deposits we can see. Unfortunately, there is a much more serious problem caused by scale that we can't see - in your central heating boiler and hot water cylinder. And a build-up of scale there really does cost you money.
What causes scale to build up?
If we didn't have to heat water, dissolved solids wouldn't cause us many problems. We would probably only notice it because it causes unsightly dull splashes on stainless steel sinks. But as soon as hard water is heated, the problems start.
When hard water is heated the dissolved solids undergo a chemical change, come out of solution and adhere to the surfaces of the heater, whether the heater is a kettle or a boiler. Once the chemical change has taken place, the scale cannot dissolve back into the water. It stays on the heated surface and builds up. Scale is actually a chemical called calcite. It has a crystalline structure and builds up into a very hard mass.
How does a Scale Invader stop this build-up?
The Scale Invader is attached to your mains water supply. No plumbing is required and fitting it couldn't be simpler. It is clamped to the outside of the supply pipe and it starts working immediately. The Scale Invader contains very powerful magnets which are arranged in a specific way to affect the minerals in the water as it flows through the pipe. As the water passes through the magnetic flux created by the Scale Invader, the calcium solids in suspension are modified from calcite (lime scale) to aragonite. When these changed dissolved solids come in contact with heated surfaces, instead of hard calcite forming, the aragonite remains in suspension. Once the Scale Invader has been installed, not only will it prevent future build up of scale, it will actually start to break down scale which has already formed. This change may be observed in a kettle.
There are no running costs involved with using Scale Invader. You will save money on your heating bills and at the same time reduce your carbon footprint - less energy used, less carbon released into the environment.