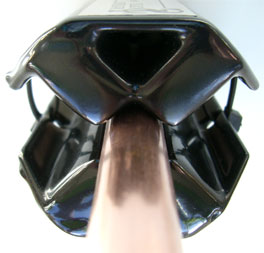 Industrial and Commercial Locations


Scale Invader Ltd. provides a service in Industrial situations that are often complex and require technical input to maximise the savings that may be achieved by using Scale Invader.
Lime scale is a costly problem.
If the water drawn in your area has high levels of Calcium carbonate, it is known as 'hard' water. The result, when this water is heated, is that lime scale is deposited on the heating element, which acts as an insulator and causes heating costs to be considerably increased.
A 1.5 mm coating of Lime scale at the heat exchange point will result in nearly an 18% increase in energy consumption, be this electric or otherwise! These figures will increase over time as the deposits thicken.
This applies to all water heater exchangers from kettles to boilers!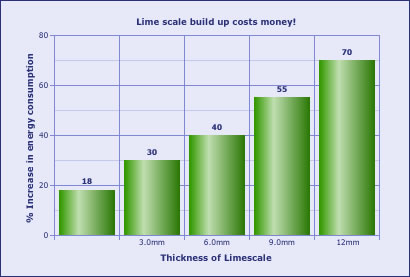 An example of the savings that are achieved by installing Scale Invader can be demonstrated by using the office instant hot water delivery system. These units usually need descaling every 6 months just to remain functioning. If these units are not serviced on a regular basis the scale build up increases the insulation and eventually causes the heat exchanger to overheat and fail.
Increased Cost Versus
Scale Build-up
18%
First Qtr 1.5 mm
30%
Second Qtr 3.0 mm
40%
Third Qtr 6.0 mm
55%
Fourth Qtr 9.0 mm
Total
Cost
Without Scale Invader
£321.15
£353.81
£381.02
£421.85
£1,477.83
With Scale Invader
£272.16
£272.16
£272.16
£272.16
£1,088.64
This cost saving projection is based on a hot-water unit with a 3kW immersion
heater, running an average of 6 hours a day, 7 days per week and 48 weeks per
year. This amounts to 2,016 hours per year.
(The figures are based on a 1kW price of 18p - E-On March 2012)

Compare these figures to the cost of a Scale Invader unit and it becomes an instant money saver.
Figures like the above equally apply to other forms of hot water supply units/boilers/heating systems.
In order to achieve savings of this nature, a trained technician will visit the site and assess the following:
Test the hardness of the water supply in parts per million.
(The higher the figure, the harder the water).
Establish the number of hot water exchangers that are in use in order to reduce scale on the premises.
Define the locations that will maximise the potential.
Determine number of units required to maximise the safety and productivity of customers valuable equipment.
Provide a broad calculation of the monetary savings that can be achieved. The calculation will be based on the presence of 1.6 mm of scale present at an energy cost of 18p. per KW.
Fitted by an S.I. qualified technician.
Periodical after-sales care.