Scale Invader in the home


First of all, you will not find any photos of scaled up pipes or tanks, or any incredibly high plumbing repair estimates on this website; all we want to do is to show you a solution.
Lime scale is problematic in hard water areas and can cause havoc in heating systems, ranging from kettles, dishwashers, and washing machines to boilers. In fact scale or, as it is also known, Calcite will form on any heated surface coming into contact with hard water. We all know the consequences! Expensive replacements of 'Scaled Up' appliances and pipe-work. Furthermore scale acts as an insulator when it forms on a heat exchanger such as a kettle. The result of this insulating layer means that more energy is required to heat your water. For example: a kettle with a layer of 1/16th inch of lime scale will increase the running cost by 18%! Just think of how much hot water you use in your house, often generated by system not unlike a kettle, i.e. an immersion heater in the hot water cylinder.
What can be done to prevent this happening and stop wasting money?
The simple answer is to fit a Scale Invader and start saving money!

Scale Invader modifies the Calcium carbonate in the water to Aragonite, which remains in solution and does not adhere to heated surfaces. (How Scale Invader works)

An end to encrusted kettles and worse the scale-clogged pipe-work in combi-boilers and hot water cylinders.

Simple to fit, applicable to domestic applications and with a 10-year guarantee, a very good investment! We are so confident in our product that we offer a no quibble return if not fully satisfied.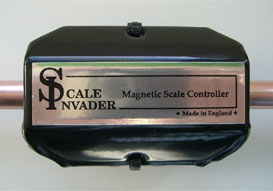 Scale Invader fitted - no wiring or chemicals and in minutes.
If you have a combination boiler then Scale Invader is ideally fitted on to the rising main before it feeds to dishwasher, washing machines, power showers etc. The protective coating of the unit, allows it to be buried underground if necessary.
If you have a header tank in the loft feeding a hot water cylinder you will unfortunately require 2 units as the treatment of the water lasts up to +/- 18 hours after which the Aragonite reverts back to its natural state and consequently the hot water cylinder will become liable to scale up. (If this is the case a second Scale Invader will be discounted by 20%).
In time Scale Invader treatment will have a slow dissipating effect on existing scale.
Once a unit has been fitted, and after removing existing scale in your kettle, you will find that after a while a soft powdery substance appears in the bottom. This is in fact Aragonite. It has the texture of toothpaste and can easily be removed with a washing up brush.
Scale Invader's affect has no negative consequence on the potability/ quality of drinking water and therefore remains totally safe for human consumption.
Lime scale insulates the heater surface preventing efficient heat exchange.
Estimated cost/savings base on a 3KW Immersion heater used for 2 hrs. a day at a cost of 18p* per KW. (*Eon March 2012)
54p. x 365 days x 2hrs. = £394.20 per annum.
Increased Cost Versus
Scale Build-up
1.5 mm
= 18%
3.0 mm
= 30%
6.0 mm
= 40%
9.0 mm
= 55%
Without Scale Invader
£465.16
£512.46
£551.88
£611.01
With Scale Invader
£394.20
£394.20
£394.20
£394.20
£ Savings
£70.96
£118.26
£159.68
£216.81
Scale Invader will also slowly reduce existing lime scale!